Report: Power struggle brewing between Browns' coach and GM – CBSSports.com – CBSSports.com
Posted: Tuesday, July 21, 2015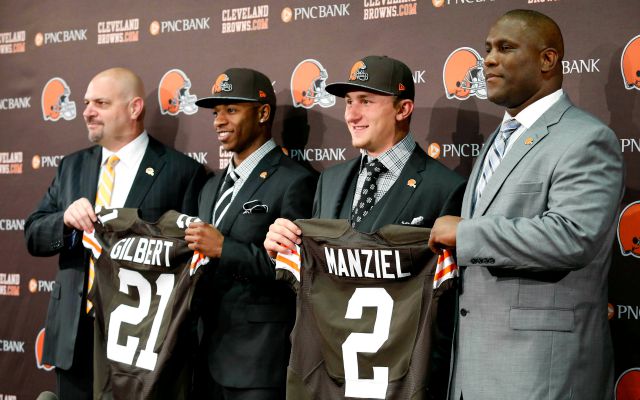 According to a report from ESPN Cleveland, the departure of the Browns' former director of player engagement (Dr. Jamil Northcutt) may be the first public sign of a power struggle between the team's coach, Mike Pettine, and general manager, Ray Farmer.
Northcutt was a nonentity to fans. A former college linebacker at the University of Mississippi, he didn't make (or miss) a tackle, or directly influence what happened on game days.

But in the politics of Browns football, Northcutt was an inordinately major "player" in the 2014 season – a confidante of GM Ray Farmer and, it turned out, a thorn in the side of Mike Pettine's coaching staff.

And Northcutt's ouster – which the club is characterizing as a mutual parting – reflects a seeping rift between Pettine and the GM who is facing a four-game suspension for breaking NFL rules by texting, and badgering, coaches in the press box booth during games.
According to the report, Northcutt may or may not have been the recipient of Farmer's game day text messages, and may or may not have then relayed some of those messages to the coaching staff on the sideline. (The report cites one source that says he was the recipient, and another that denied that was the case.) Additionally, the report cited "stories" of Northcutt's sideline confrontations with both offensive and defensive coaches on separate occasions.
Defensive coordinator Jim O'Neil:
There is a story of Northcutt having a confrontation with defensive coordinator Jim O'Neil during that horrible 23-7 loss to the Houston Texans on Nov. 16, in which nondescript Houston running backs Alfred Blue and Jonathan Grimes combined for 49 carries and 210 yards on the ground. O'Neil did not take kindly to Northcutt's intrusion during the difficult day, sources said.
Offensive line coach Andy Moeller:
There is also a story of Northcutt having a "conversation" with offensive line coach Andy Moeller concerning the non-use of reserve guard Vinston Painter after the injury to center Alex Mack. According to a source, that was outside the boundaries of Northcutt's job description.
We won't truly know if Northcutt's ouster is the sign of a power struggle unless and until one of Pettine and Farmer is cast aside while the other stays in place, but this doesn't exactly paint the picture of a harmonious organization.
CommentsWrite a Reply or Comment: