The Best Way To Invest In Ford – Seeking Alpha
Posted: Wednesday, July 05, 2017
Although I have been bearish in my commentary regarding Ford Motor Company (NYSE:F) as a capital gains investment, there few stocks that match Ford as an investment from a dividend standpoint. The current dividend yield is 5.2% and despite the auto industry in the US consistently reporting falling auto sales, Ford's cash flows looks healthy at present which means there is no immediate risk to the dividend. Ford's share price performance has been generally flat for the last number of years with the company reinstating its dividend at the start of 2012.
Obviously for total return purposes, the time to buy this stock was back in the great recession when shares plummeted to $1. However (from an income standpoint), income investors have done reasonably well since 2012 if they timed their entry well. Personally, I am still wary of the downside risk in Ford. In this article, I want to go through some income strategies present investors can use to boost their income even further. Many investors talk about "total return" which the combination of a dividend yield and capital gain on the shares. Since Ford shares have not been rising, capital gain potential is nonexistent. Therefore we have to boost the other side. Here is how to do it.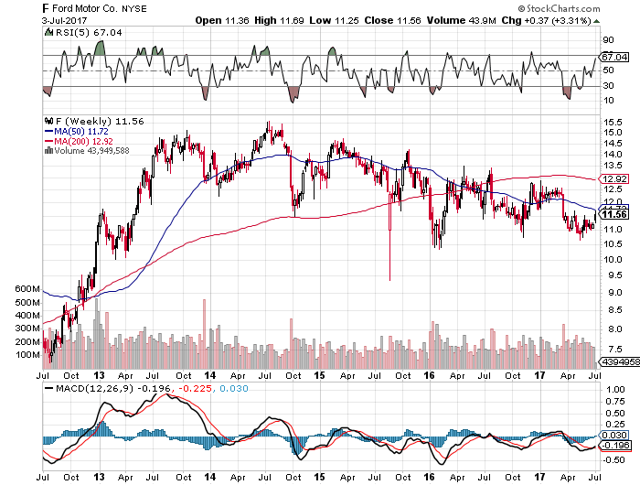 The chart above should illustrate to current investors that the stock doesn't look like it will break out any time soon. Although Ford has been busy in the electrified and autonomous segments, the market clearly is not convinced of a growing earnings story here. The reasons are numerous. First is the shift to autonomous vehicles, where Ford clearly seems to behind. This was probably the prime reason why Jim Hackett replaced Mark Fields as CEO of the company.
Second is the now accepted belief that used car prices will continue to fall over the next few years. There seems to be a glut of second hand cars either that have come off lease or are expected to come off lease in the near future. This most certainly will not help sales for new automobiles. Furthermore the switch to self driving vehicles is expected to take a significant percentage of existing cars off the roads. This can't be good news for the big manufacturers as their market share will undoubtedly decrease.
Therefore if the stock has no obvious catalysts on the horizon, let's see how we can meaningfully boost that present dividend yield. For the rest of this article, I will talk about 100 shares or "per option contract" as one option contract equates to 100 shares of stock. Obviously Ford is a low priced stock so many investors reading this article will be able to go with multiple contracts of the following income trade.
With respect to the sustainability of Ford's dividend over the long term, here is how I see things shaping up. The metrics I would be watching closely would be the SAAR number for the industry, Ford's own sales and cash flows and whether the company can hang on to its stable credit rating from the agencies with respect to its financials. Sales in the industry definitely seemed to have peaked last year but the decline this year has not been steep which is encouraging. For example the SAAR number in June came in at 16.54 million which was only 280,000 lighter than the same number last year – not really a huge cause for concern.
Furthermore Ford continues to benefit from low gas prices as its SUV's and light truck models continue to more than support their own. Although Ford's deliveries were down 5% in June, its F-series trucks for example almost rose 10%. Therefore although Ford's number outpaced the sector's deliveries to the downside, it still is doing very well in the high margin areas it needs to – specifically light trucks.
Free cash flows on a trailing twelve month average basis are $12.8 billion and they was $3.4 billion paid out in dividends last year. I have written though that these numbers can change in a heartbeat if the industry SAAR number accelerates to the downside. Low crude oil prices are also helping Ford at present both from a manufacturing and a consumer point of view with respect to the price of gas at the pumps. Again a strong move in commodity prices could easily adversely affect Ford's high margin vehicles so again this metric would need to be watched closely.
Before we get into the structure of the trade though, I want to bring your attention to the whole area of implied volatility (IV). This metric basically measures how much the stock is projected to move over a certain time frame. I always use 12 months and then compare this metric at any given time against itself. Why? Well because implied volatility is actually mean-reverting, which means over time it always reverts back to its average. In fact, it basically goes from low to high to low to high, etc. You get the drift. Now as income investors, we want to be clued into Ford when its implied volatility is high.
Why? Because that is when Ford's options (both calls and puts) will be at their most expensive. Since we will be sellers (of options), we want to be selling this premium for as high as we can. We do this with when IV is high which usually occurs sporadically (and before earnings announcements) throughout the year. As the IV chart shows below, Ford's IV is presently around the 21% level which in itself means nothing. What we want to look at is where IV is at present compared to its 12 month average (which is definitely higher than the 21% level at present).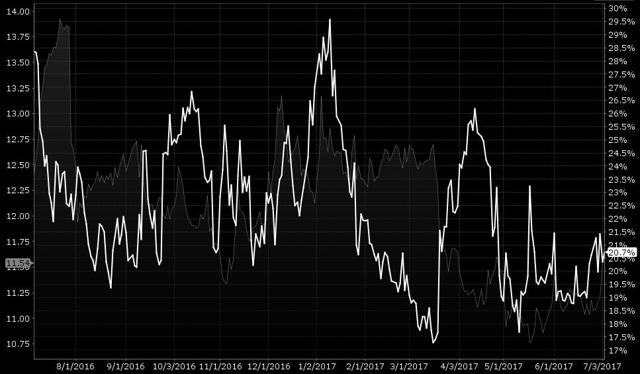 Source : Interactive Brokers
Therefore we most certainly do not want to selling premium at present. In fact, as Ford approaches its next earnings announcement on the 27th of this month, IV will rise as it has does before all earnings announcements. That will be the point at which we want to be selling premium. Now for new investors who are not holding stock at present, the time to start scaling into Ford would be a few days before the next ex-dividend date which will be around he 21st of July. This guarantees the investor at least $0.15 per share of a dividend which is an improvement of cost basis by about 1.3% at current prices.
So we have our dividend captured going into earnings. Now we want to sell inflated premium just before earnings to bring in as much income as we can. My aim is to collect at least $1 before earnings are announced Here is how I do it. For stocks such as Ford where I want to decrease the downside risk, I would see a naked call and a put spread.
So for argument's sake, just say today was the day before the next earnings announcement and Ford was selling at $11.56. In that case, I would sell the $12 call and $11-$10 put spread in the nearest cycle that gives me a least $1 in premium. Why? Because then there is no risk to the downside (on the options trade) as the credit received surpasses the width of the put spread. One word on the put spread which is a credit put spread (income received): It merely is the sale of the higher strike and the purchase of the lower strike. This creates a "spread" and is used widely in options trading to reduce risk in a respective direction.
So let's recap. We now have collected $.15 from a quarterly dividend and $1 in option premium. $1.15 as a percentage of today's share price is almost 10%. This premium is guaranteed. Here is how I would manage the stock. If Ford shares finish above the call strike ($12), then shares would be obviously called away. This is the one area where long term investors struggle with the calling away of a stock. However if one adopted this strategy over the past 5 years or so, multiple sales would have taken place but each time but investors would have still had ample opportunities to re-enter.
So why should now be any different? If you are primarily invested for income, try to entertain the idea of giving up some upside potential so you can over time bank more income. This strategy forces you to take profits. I bet many investors reading this article watched Ford shares almost reach $18 in 2014 only to slowly grind lower ever since. There is always another opportunity. Ford shares are not going to go to the moon any time soon.
We also have to discuss the downside which is key. Well adopting this strategy, one can easily place a stop loss at 10% or $1.15 per share below the current share price to manage downside risk. This would be at around the $10.40 level. So if your shares got stopped out at this level, you would absolutely have lost nothing on the trade because the capital gain loss of the shares would have been offset by the income you had received previously.
Is this not intelligent investing? Start with the end in mind. Ford's advantage at present is that it is range-bound and pays a gigantic dividend. Use what the market is giving you to your advantage. Sell buckets of premium when IV is high and don't be afraid to let go of your shares. There always will be another opportunity.
Disclosure: I/we have no positions in any stocks mentioned, but may initiate a long position in F over the next 72 hours.
I wrote this article myself, and it expresses my own opinions. I am not receiving compensation for it (other than from Seeking Alpha). I have no business relationship with any company whose stock is mentioned in this article.
CommentsWrite a Reply or Comment: