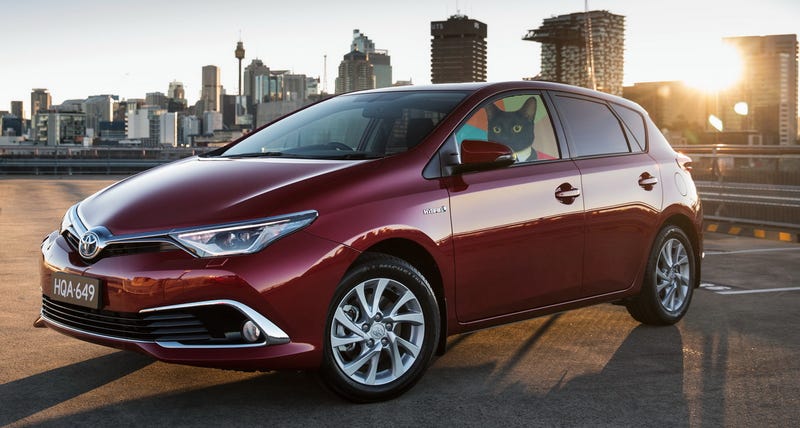 Have you seen the new Prius? Have you forgiven yourself yet? I haven't. Can somebody explain to me why the redesigned Toyota Prius looks like a hairless cat while this Australian Corolla Hybrid looks like that perfectly respectable Business Cat meme?
This is Australia's Toyota Corolla Hybrid. It's basically a Prius, but actually designed to look respectable. It looks a little simple, a little European, but sleek and professional and it's a helluva-lot better looking than the new Prius—which was seemingly designed with only one sheet of paper and a pair of scissors and that's it.
ETA: This is totally the Scion/Toyota iM that we get Stateside, which I forgot about. BUT! That doesn't come as a hybrid, and in hindsight that would have been the perfect Prius update. I also added a question market to the opening paragraph. Please, still enjoy this five minute blog.
Let's compare the two:
Now we need to ask ourselves, Toyota: what do we want the Prius to be?
Unfortunately, in America, I think we're seeing Toyota embrace the "fuck you" attitude of some Prius owners, who we all know can be a little insufferable about saving the planet sometimes. But the majority of Prius drivers probably don't think that way. A majority of Prius drivers are just cheap, and that's the American way I believe in.
But perhaps the new Prius design is also embracing the "be different" crowd, where wearing khaki shorts over bluejeans is hip and how-fucking-dare you order a drink from Starbucks.
And those people are cool, too. But that doesn't mean you put a perfectly good previous-gen Prius in a photoshop blender and just go with it. What about the rest of us? You mean I have to buy a hybrid that isn't a Toyota Prius?
Maybe we should just let Toyota be different, since it seems to be so rare. But why does a hybrid have to shout all the time that it's different?
Honestly, if this was the first generation of the Prius, that'd be fine. But it's not. Hybrids are pretty common now. Why can't I buy the best Hybrid on the market and not look like my car just devoured another car after falling down some stairs?
As Americans, we deserve a Prius that reflects us. The Australian Corolla Hybrid is pretty boring, pretty conservative, and pretty cheap. The new Prius is is like every single tweet complaining about Millennials wedged into a spitball. Oh well.
I guess I'll always have you, Australian Corolla Hybrid.