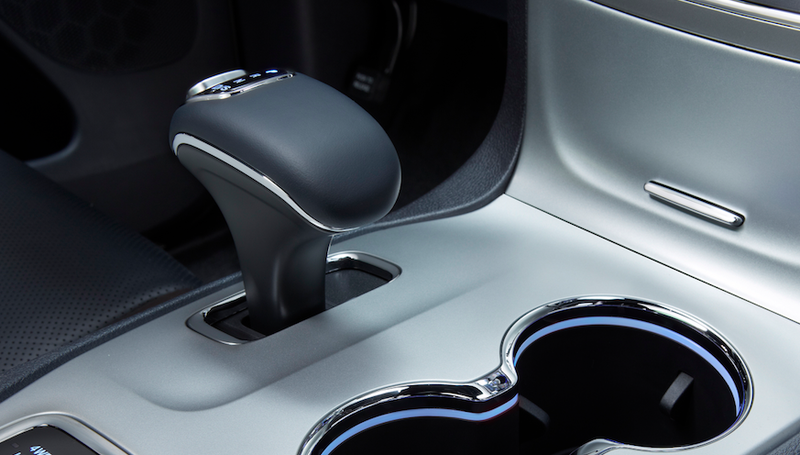 After the tragic death of Star Trek actor Anton Yelchin, who was crushed by his own 2015 Jeep Grand Cherokee, all eyes have been on Fiat Chrysler's rollaway vehicle recall. That 1.1 million vehicle recall was less of a fix and more of a warning to customers on how to use the shifter properly. But now Jalopnik has a document showing an "Auto Park" software update procedure for technicians. Is this Fiat Chrysler's fix?
Fiat Chrysler recalled the shifters in certain 2012-2014 Dodge Chargers and Chrysler 300s, and 2014-2015 Grand Cherokees after drivers kept accidentally exiting their vehicles with their transmissions still in gear, causing the cars to roll away—and leading to 41 injuries.
For months the company had no fix, only sending brochures to teach owners how to use the unusual shifter properly, although the April recall notice said a remedy in the form of a software update would be available in August.
But in an email today, Jalopnik received a document that appears to be written by Fiat Chrysler for dealers showing instructions on how to install a software update called "Auto Park" into 2014 and 2015 Grand Cherokees.
Here's the document in full:
Together, software updates to the powertrain control module, transmission control module, radio frequency hub and instrument panel cluster constitute what the document refers to as an "Auto Park" feature, which "eliminates the possibility of the driver inadvertently failing to place the transmission into 'PARK' prior to exiting the vehicle."
While not explicitly stated, this almost certainly means the transmission will automatically shift itself into park when the driver opens the door and the vehicle isn't moving.
(Note that it is possible for the transmission to shift itself into park because this shifter is electronic, not mechanical.)
In addition to the software updates, the document says, "an addendum card for the owner's manual must be placed in each vehicle."
Here's a one-pager summarizing the issue and the fix:
The instructions go on to say that the software update applies only to 536,000 Grand Cherokees with 3.6-liter V6 or 5.7-liter V8 engines (of 1.1 million vehicles covered by the recall), and that owners of said vehicles are being notified by mail to schedule appointments at their dealers soon.
According to the report, dealers should complete the procedure on all new and used models on their lots, so that anyone who buys a 2014 or 2015 Grand Cherokee with a 3.6-liter V6 or 5.7-liter V8 will receive a model with "Auto Park" already installed.
Three-liter diesel and 6.4-liter SRT8 models, the report states, have to wait until July or August, which is when Fiat Chrysler says 2012-2014 Dodge Chargers and Chrysler 300s will also receive their fixes.
A Fiat Chrysler spokesman declined to say whether the document above is official, though Jalopnik did call a dealership in Seattle whose service department said it had received similar service instructions for the recalled shifter yesterday.
We don't know if that's when Fiat Chrysler sent all of its bulletins, though, as the service instructions document above is only dated with the month (June 2016), and a new TMZ report claims that the fix was somehow rolled out a few days before the recent accident with Anton Yelchin. Details on that are not immediately clear.
Either way, it seems like Fiat Chrysler is now moving quickly on this remedy, so hopefully the world won't have to keep reading horror stories in NHTSA's complaints database.