Tiger Withdraws With Back Pain – ESPN
Posted: Monday, March 03, 2014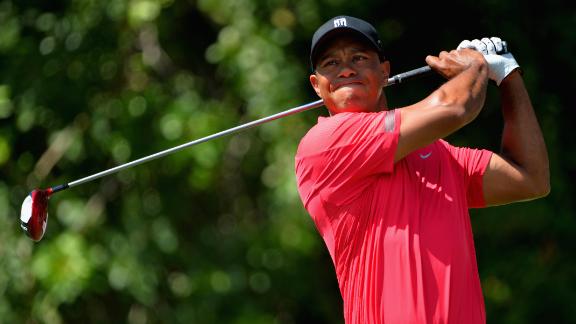 Tiger Withdraws With Back Pain
NEXT VIDEO
PALM BEACH GARDENS, Fla. — The back problems that plagued Tiger Woods toward the end of the 2013 PGA Tour season resurfaced Sunday at the Honda Classic, where the No. 1-ranked player in the world withdrew after 13 holes.
It was clear something was amiss as Woods struggled to hit good shots and was seen stretching his back several times. He played the front in 40 and was 5 over for his round after four bogeys, a double bogey and just one birdie. He made four straight pars on the back nine before deciding to leave.
[+] Enlarge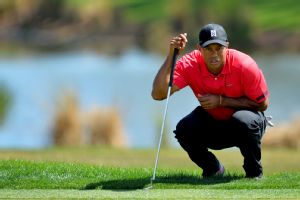 "It started this morning during warm-ups," Woods said through spokesman Glenn Greenspan, who accompanied Woods off the course in a van.
Woods is scheduled to play in this week's WGC-Cadillac Championship at Doral, where he is the defending champion. He has a Tuesday news conference schedule in Miami, although everything is on hold now.
"It's too early to tell," Woods said about Doral. "I'll get treatment every day to try and calm it down. Don't know yet. We'll see how I am, wait till Thursday and see how it feels."
Woods said it was the same feeling he had at the Barclays last summer when he suffered back spasms in the final round and actually fell to the ground after hitting an approach shot.
He tied for second in that tournament behind Adam Scott but didn't hit any shots prior to the next tournament at the Deutsche Bank Championship, where he tied for 65th. Although he said little about it at the time, the back issues bothered him through the BMW Championship and Tour Championship.
Woods played in the Presidents Cup, then took lengthy breaks prior to his last two tournaments. He tied for third at the Turkish Airlines Open and lost in a playoff to Zach Johnson at the World Challenge.
SportsNation: Tiger Woods' health?

How much will health problems hurt Tiger Woods this year? Will he win a major? Will he ever be fully healthy? Vote »
Off to an unusually slow start by his standards in 2014, Woods told ESPN.com two weeks ago that he purposely took it easy in the offseason in hopes of avoiding this kind of issue while also staying fit for a long season.
"I took a lot of time off this winter to get ready for the season because it's going to be a long grind," he said.
Woods tied for 80th at the Farmers Insurance Open after a third-round 79 caused him to miss the secondary 54-hole cut. A week later at the Dubai Desert Classic, after opening with a 68, he struggled to get much going and ended up in a tie for 41st.
It was his worst two-tournament stretch to start any of his 18 seasons as a pro.
Throughout his career, Woods' worst three-tournament stretch was a tie for 40th at the 2012 Masters followed by a missed cut at the Wells Fargo Championship and then a tie for 40th at the Players Championship. But he won his last tournament prior to the Masters that year as well as the one after the Players Championship.
Woods made the cut on the number at the Honda Classic, starting Saturday's round in a tie for 66th before shooting a 5-under-par 65 that moved him up to a tie for 17th. It was his best round of the year and Woods seemed encouraged by the turnaround.
"Today was a positive day," he said after Saturday's round. "Hit the ball well and made some putts and got myself back in the hunt."
Woods' playing partner Luke Guthrie played the last 5 holes and ended up shooting 72 to finish at 3 under.
"He made a couple uncharacteristic shots; the drive on 3 kind of was the first one," Guthrie said of Woods' day. "I didn't know if he wasn't feeling the greatest and kind of seemed like he might have been protecting, came up and out of it. I didn't think much of it until, I forget maybe 11, I noticed he was bending down gingerly.
"… If you're hurting, you're hurting. You don't need to risk injuring yourself even more. He's had his share of problems with injuries. There's no reason for him to chance it if he's really hurting."
Woods had dealt with a slew of injuries in recent years. He had major knee surgery following his 2008 U.S. Open victory. He has withdrawn from the Players Championship in both 2010 and 2011, the latter of which was an Achilles and knee problem that kept him out of two major championships. In 2012 at the WGC-Doral tournament, he withdrew after 12 holes of the final round for precautionary reasons concerning the Achilles; he won two weeks later at the Arnold Palmer Invitational.
Last year, Woods suffered an elbow injury during the first round of the U.S. Open at Merion. It caused him to miss the AT&T National, a tournament that supports the Tiger Woods Foundation. He was also expected to play the Greenbrier Classic but skipped, not making his next start until the Open Championship, where he tied for sixth.
This is the seventh time in Woods' career that he has withdrawn from a tournament, and the fourth in the last five years.
CommentsWrite a Reply or Comment: Cancel reply