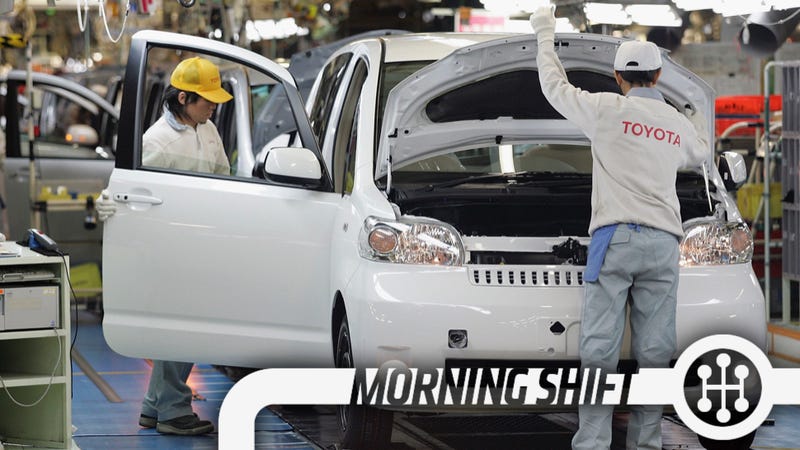 Good Morning! Welcome to The Morning Shift, your roundup of the auto news you crave, all in one place every weekday morning. Here are the important stories you need to know.
1st Gear: Well That's Not Good
A mysterious explosion at Toyota supplier Aisin Advics Co., which Reuters identifies as "a major maker of breaking [sic, ha, appropriate] systems," suffered an explosion earlier this week, is causing a halt in production at three different factories:
Toyota said it would cancel one of two production shifts on two lines at a plant operated by group company Hino Motors Ltd. Earlier in the day, it scrapped shifts on a line at its Toyota East Japan plant and at a plant operated by group company Daihatsu Motor Co Ltd.
Toyota East Japan manufactures the Prius C and the beloved Century, among many other Japanese oddballs we'll never see here. Production should be back online by June 6th.
Save the Centuries!
2nd Gear: Apple Hires Car Map Guy
Apple, a company very strongly rumored to be slowly developing its own cars, has not always had the best mapping apps. To fix that, Bloomberg says that it hired a chap last autumn by the name of Sinisa Durekovic, "a software engineer who led the development of satellite navigation systems used by luxury carmakers including BMW AG, Daimler AG's Mercedes-Benz and Volkswagen AG's Audi."
The navigation systems in those cars have always been okay, I guess. Audi's always sounded a bit robotic to me, and the Mercedes system always sound very angry with me.
3rd Gear: Hyundai's Bolt Competitor Will Be A Genesis
Yesterday, we learned that Hyundai was planning to build a competitor to the Chevy Bolt, with a 200-mile range. Today – perhaps in a bid to avoid association with the Bolt, a car of the people – a Hyundai executive made the clarification that this Bolt competitor, with its piddly 200-mile range that does not have an extensive fast-charging network for long road trips, will be a luxury car, according to Reuters:
"We will definitely go as Genesis brand down the road of alternative propulsions and it is very, very obvious that EV is definitely on the map," Fitzgerald told reporters on the sidelines of an auto show in Busan, without elaborating on details such as a launch date.

"I think full electric cars will be the future in the auto industry," said the former Lamborghini director who recently joined Hyundai and leads strategy for Genesis, which broke out as a standalone luxury brand in November.
I say it's a "Bolt competitor" because true luxury means freedom, and if you are chained to a 100-mile radius around your house (assuming a return trip), then you are not truly living in luxury.
Invest in a fast charging network, license Tesla's Supercharger system, whatever. But electric cars need the infrastructure if they're going to work.
4th Gear: BMW's i Division Will Focus On Self-Driving Cars
Klaus Froehlich, development chief at BMW, gave a wide ranging interview to Automobilwoche, in which he dropped a bunch of knowledge about the future of BMW's electric and autonomous vehicles. While he said that the "i" division will focus on self-driving cars in the future (we certainly hope this doesn't mean anything untoward about the BMW i8, which is a great car when it's driven by a human), he did have something good to say:
Electric cars have to be emotionally appealing and fun to drive.
Good on you, Klaus. This is something we've been shouting from the rooftops for a while. Some car companies get this very basic notion, and others don't.
5th Gear: Japanese Investigators Raid Suzuki Headquarters
In a day and age where everyone seems to be double-checking how they measure emissions, Suzuki's been caught up in an investigation by Japanese authorities. Earlier today, those authorities raided Suzuki headquarters, according to Newsweek:
During the raid, officials were looking for documents that would prove Suzuki wasn't trying to cheat its customers. Suzuki has claimed that it performed indoor tests on individual car parts to determine the vehicle's overall emissions, rather than testing the car as a whole, Reuters reports. It has acknowledged that there are discrepancies in its data.
Suzuki says that the discrepancies weren't intentional. I guess Japan will soon find out whether or not that was the case.
Reverse: U.S. Supreme Court Rules Against DuPont In General Motors Suit
On this day in 1957, the U.S. Supreme Court rules that the chemical company E. I. Du Pont de Nemours & Co. must give up its large stock interest in the Detroit-based automobile company General Motors on the grounds that it constituted a monopoly, or a concentration of power that reduced competition or otherwise interfered with trade.
Neutral: Who Would You Hire To Run Your Navigation Systems Unit?
I feel like I've never heard anyone sound totally enthralled with their navigation system, but there has to be somebody out there who loves theirs. If you needed to hire the chief engineer of a company to create your navigation system, which company's engineer would you hire? Which navigation system do you love?