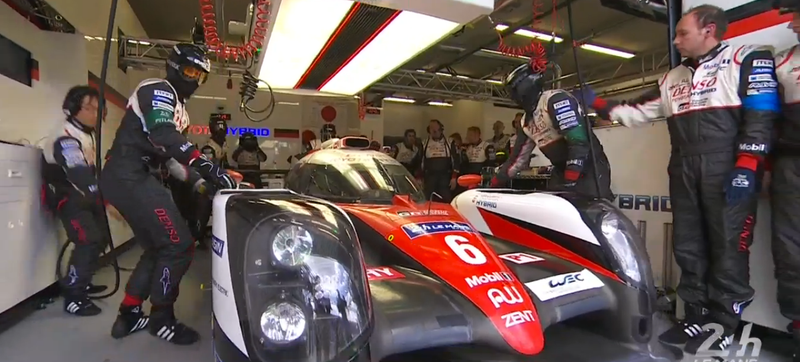 The No. 6 Toyota TS 050 has had some trouble while in third place overall that it had to briefly go into the garage to fix. Mechanics quickly made some repairs to the back of the car and got the TS 050 back out on the track.
The No. 6 had some slight bodywork damage from contact with an Aston Martin, however, this was a more extensive repair. Perhaps something was out of place after driver Kamui Kobayashi took the No. 6 off track. Regardless, the No. 6 was still so far ahead of both Audi R18s that went back out with its third place position intact.
The No. 6 wasn't the only class front-runner to run into trouble at this hour. Toni Vilander had this spectacular spin in the No. 82 Risi Competizione Ferrari 488 GTE while in second place in LM GTE Pro:
Vilander held on to second place in the class, but he was significantly farther behind the leading No. 68 Ford Chip Ganassi Racing Team USA GT. This isn't the first time the No. 82 has had a spectacular spin this week, as it had perhaps the most graceful pirouette of the red-flagged qualifying session:
Three cheers for mid-engined cars!