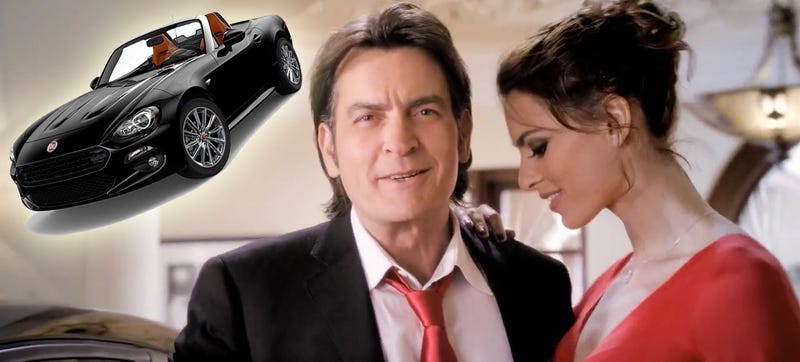 Sometime in early to mid-September, Fiat filmed an ad with Charlie Sheen for the new 2017 Fiat 124 roadster. About a month later, the automaker started showing the ad to groups of dealers and Fiat boosters. On November 17th, Charlie Sheen went on the Today show to admit he was HIV positive, and had paid more than $10 million over the past few years to keep it secret. Since then, Sheen seems to have disappeared from Fiat marketing plans, and the company isn't saying why.
http://gawker.com/charlie-sheen-…
Two separate sources have told Jalopnik about the ad—one, who was party to its filming at the Griffith Observatory in Los Angeles, and another, who saw what was described to us as a finished product.
Reporter Paul Eisenstein of The Detroit Bureau, who had seen the ad but told us he didn't initially grasp the significance of it until we brought it up with him, described it on his site:
To help give it a kick, expect to see an outsized marketing campaign. Fiat officials offered a hint of what's in store during a pre-LA backgrounder. A key TV spot will feature perennial bad boy Charlie Sheen tearing up the highway in one of the new Fiat 124 Spiders.

Whether Sheen still has the star power of a few years ago is uncertain, but the Italian maker is clearly betting that the Fiat 124 Spider has the sort of flair and drawing power to bring shoppers into its showrooms.
But strangely, Fiat seems hard-pressed to admit it even exists. When asked point-blank about the ad, and Fiat's plans for it, a spokesperson replied in an e-mail:
As you know, Charlie Sheen was featured in the "House Arrest" spot for the Fiat Abarth a few years ago – he is a friend of the FIAT brand. At this time, there is no plan for any FIAT creative outside of "House Arrest" that may feature Charlie Sheen to run on-air or online.
Fiat Chrysler Automobiles' Chief Marketing Officer Olivier Francois will often create videos for all sorts of purposes, even for internal display only, the spokesperson continued. Francois will often go back to his "'drawer' of creative material," the spokesperson continued, if FCA feels like returning to it later.
Representatives for Sheen did not respond to calls for comment.
As the spokesperson noted, Sheen famously appeared in another ad for the company, at the time featuring the 500 Abarth, in an ad titled "House Arrest" back in 2012:
"Not all bad boys are created equal," text in the ad blares. And Charlie Sheen has indeed been known as a "bad boy." In 1990, he shot his then-fiancée, Kelly Preston, in the arm. In 1998, he suffered a stroke after overdosing on cocaine. On Christmas Day of 2009, he was arrested and initially charged with felony menacing along with third-degree assault and criminal mischief. He pled guilty to charges of misdemeanor assault. There's more, too. A lot more.
None of these incidents were considered enough to keep Fiat away when "House Arrest" first aired in 2012. In fact, they were seen as a selling point for the 500 Abarth, a fun little car with a loud, growly engine and a penchant for inspiring joy in even the surliest of automotive writers.
Sheen's television commercial fee is undisclosed but likely would not come at a small price, considering he was the highest paid actor on television on 2010 with his role on Two and a Half Men for which he was paid $1.8 million per episode.
So why would Fiat Chrysler shove the presumably expensive Sheen in a "drawer" right after his HIV status was disclosed? The move raises a lot of questions, none of which Fiat Chrysler seems willing to answer.
But there is one possible reason, unrelated to Sheen's health, that might be the reason why FCA is being so coy about it all. Fiat, the spokesperson noted, has a history of debuting ads in small groups, only to run them at the Super Bowl later. First there was "Seduction," an ad for the Fiat 500, which was shown before a group of journalists at the Los Angeles Auto Show in November of 2011, before being shown at the Super Bowl in February of 2012.
And then there was "Wisdom," an advertisement for Dodge, which initially ran at the April 2014 New York International Auto Show, but didn't show up on television screens until the 2015 Super Bowl.
And when it comes to Super Bowl ads, automakers definitely do not like to talk about their upcoming plans. The Super Bowl is the most-watched event on television every year. 2015's event, Super Bowl XLIX, broke records with 114.5 million viewers. A 30-second slot during the prime moments of the game can be correspondingly pricey, going for up to $5 million, putting whatever Sheen's fee is into perspective when you're already going to be spending more on just the air time.
Add in that big surprises can make a big splash, inspiring fawning websites to declare who "won" simply on the strength of the ad and how unexpected it was, and you can see why that element of surprise is often so highly valued.
Indeed, a Fiat spokesperson had this to say when pressed:
The company does not reveal any potential Super Bowl creative until it debuts on-air the day of the game. At most, if it is to be a part of the telecast, the company has confirmed the past two years (in the days just before that weekend's game) only that it will air spots during the game (never speaking to which brands or the creative content) and the number of spots. It is far too early to speak to what the company's Super Bowl plans may or may not be this year.
So in this case, Fiat might not be shying away from Sheen over his diagnosis; it might just be playing dumb.
Either way, for one reason or another, Sheen is in the drawer for now.
If you know anything about this situation, or have seen the ad, or have a copy of it, please contact us at tips at jalopnik dot com.
---
Contact the author at ballaban@jalopnik.com.
Public PGP key
PGP fingerprint: 0D03 F37B 4C96 021E 4292 7B12 E080 0D0B 5968 F14E