Why Should You Buy General Motors Despite The Ruckus In The Auto Sector – Seeking Alpha
Posted: Sunday, March 26, 2017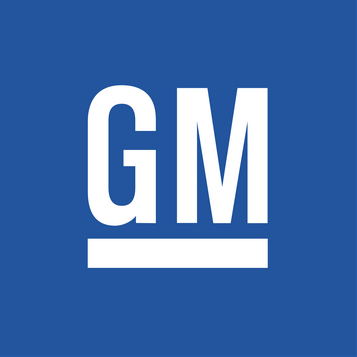 Auto companies have sold off last week as concerns over a decline in used car prices hurt investor sentiment. Further, Ford Motor's (NYSE:F) weaker-than-expected 1st quarter profit guidance took a toll on the sector, as well as a reaffirmed downgrade by investment bank Morgan Stanley at the beginning of the week. General Motors' (NYSE:GM) shares also dipped as investors fled the sector, but the company's income stream is a good enough reason to buy GM for an income portfolio.
I think one of the biggest misconceptions about U.S. auto companies is that they are investments that investors buy for capital appreciation, when, in fact, the opposite is true: Ford Motor and General Motors are excellent income vehicles, and last week's drop in auto company valuations is a good opportunity to gobble up some shares at discounted prices and higher yields.
Ford Motor, for instance, took a heavy beating last week as multiple factors convinced investors to abandon the auto sector. For one thing, Ford Motor's 'Underweight' rating with a price target of $11 was reaffirmed by Morgan Stanley's analysts who cited the slump in used car values as a reason to be cautious about the stock (with the same implication for General Motors). Further, Ford Motor released a weak profit guidance for the 1st quarter, guiding for $0.30-$0.35/share in adjusted profits, missing the consensus estimates by a mile. All of this contributed to a large swing in investor sentiment in the auto sector last week that has made shares of Ford Motor as well as General Motors much cheaper.
See for yourself.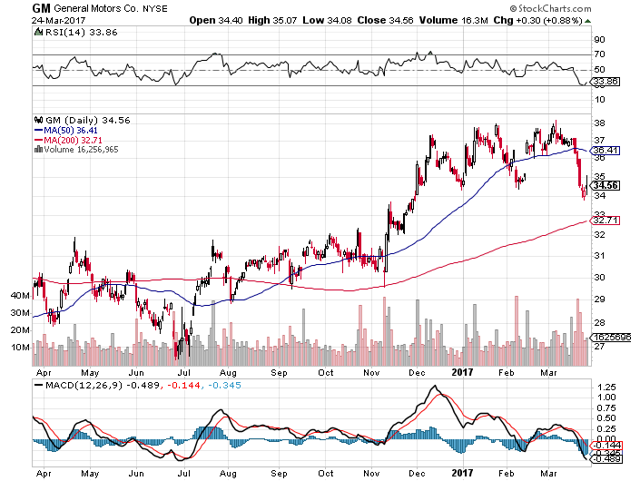 Source: StockCharts.com
Why Should You Buy General Motors Despite The Ruckus?
The biggest reason is the company's excellent dividend which should be sustainable even if the near-term profit outlook is dented a little bit. 2017 is likely going to be a good year for auto companies after all (though not great), and General Motors should have no problems covering its dividend payout with cash flow. In fact, I think the sell-off in auto stocks makes Ford Motor and General Motors compelling income vehicles because they are simply too cheap now, and investors are still hungry for yield.
General Motors' shares now change hands for less than six times next year's estimated profits (Ford Motor's shares go for less than seven times next year's earnings), tilting the reward-to-risk ratio in favor of income investors. Importantly, General Motors' shares are throwing off a 4.4 percent dividend yield.
Your Takeaway
I think it helps to see General Motors (and Ford Motor, too) more of an income play that produces regular cash dividend income as opposed to a bet on rising share prices on the back of higher sales and growing transaction prices. Last week's sell-off is a good opportunity to gobble up some shares on the cheap. General Motors' shares throw off a dividend in excess of 4 percent and they cost income investors less than six times 2018e profits. The risk-reward combination is in favor of income investors at this price point. Buy for income.
If you like to read more of my articles, and like to be kept up to date with the companies I cover, I kindly ask you that you scroll to the top of this page and click 'follow'. I am largely investing in dividend paying stocks, but also venture out occasionally and cover special situations that offer appealing reward-to-risk ratios and have potential for significant capital appreciation. Above all, my immediate investment goal is to achieve financial independence.
Disclosure: I/we have no positions in any stocks mentioned, and no plans to initiate any positions within the next 72 hours.
I wrote this article myself, and it expresses my own opinions. I am not receiving compensation for it (other than from Seeking Alpha). I have no business relationship with any company whose stock is mentioned in this article.
CommentsWrite a Reply or Comment: